Expekt Mobile Betting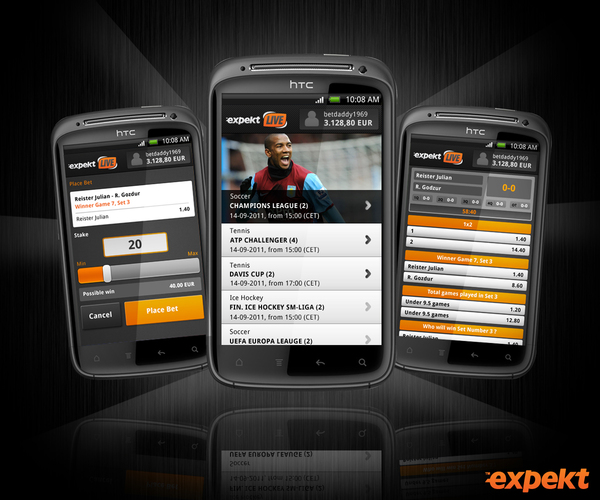 08.05.2014
The Expekt Betting Platform has been in operation for over 10 years and is well known by European bettors and gamers. One of the sites most notable improvements has been its focus on mobile betting frameworks and mobile apps for smartphones and tablets. Expekt has a large number of customers to which it offers a wide range of casino and poker services. It is a fact that Expekt's mobile app for Android phones is new in the market. Before the introduction of this mobile app, users could only access betting services through java or WAP. The recent Android apps have a good functional design which is a great improvement.
Advantages of an Expekt Mobile App
The appealing side of Expekt is that it is a web app of which downloading from an app store is not necessary.The Expekt mobile application is compatible with a range of smart phones and mobile devices.These include most mobile phones operating on the Android platform such as the HTC brand, most Motorolas, and Samsungs including devices such as Nokia smartphones which run on the Windows operating system. The users of Blackberry phones and Playbook can also find compatibility. None of these devices has to download an app, users can simply enter the mobile compatible Expekt site from the internet browser on their devices.
There are a number of operating systems which are supported and they include: Android 1.5, 3.o (honey comb), 4.O (multitasking), Windows phone 7, Windows phone 8, and other smart phones including galaxy S3, S2, iPhones 3, 4, 4S and LG devices.
Users of the Expekt mobile platform can participate in regular sport bets of a range of popular and not so popular sports, as well as live bets especially for football and horse racing. Users can manage their betting accounts; make withdrawals and deposits based on the capability and limitations of their specific devices. The only missing thing is live score services as it is in other betting services.
Expekt is also one of the best in providing efficient payments and withdrawal services.Users can manage their finances using a wide variety of e-wallet and card services. Initially, email services were the only services available, but now the site has an online live chat feature, only there is no hotline support unlike some of its competitors. Expekt has been leading in giving bonuses, therefore signing up is accompanied with bonuses. Expekt has been in market for a long time and its services have been proven to be of high quality.