French Ligue 1 Outright Betting Odds 2015/2016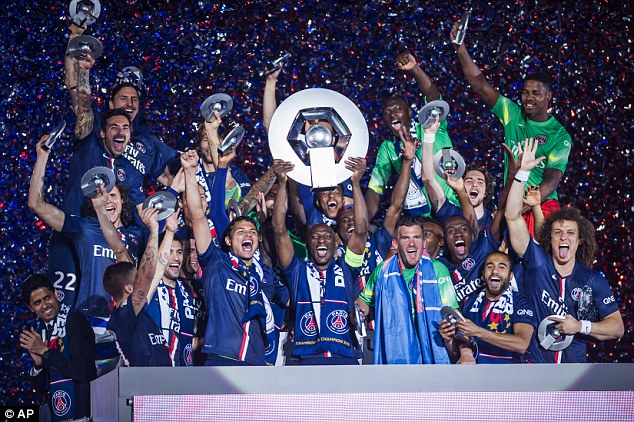 26.07.2015
PSG to Win French Ligue 1 Outright 1/7 at Bet365
French Ligue 1 is going to be very interesting this season. PSG is once again the biggest favorite, but there are several other very good teams that are looking to challenge that. Bet365 is offering 1/7 (1.14) for PSG to win their 4th title in a row. Clearly, bookies believe the Paris side will take the trophy. The reason for that lies in the fact that this is the richest club in France and one of the richest in the world. The summer transfer period is still on, so we can expect this team to make some sensational singings, same as they always do. Still, if we don't see big names coming to Paris, PSG will again be the top favorite for taking the Ligue 1 title.
Lyon to Win French Ligue 1 Outright 10/1 at Bet365
The club with the most Ligue 1 trophies in the 21st century, Lyon, hopes to add one more to their collection. In 2014/2015 season, they were so close and at one time, even were on the top of the table. But, series of poor results, followed by a superb form of PSG, cost them the title. Lyon was the runner-up that season, which wasn't bad, but they want more. If they manage to keep Lacazette (Ligue 1 top scorer in 2014/2015), they have a pretty good chance of winning the trophy. Right now, the odds for this at Bet365 are 10/1.
Bet365 offers 100% first deposit bonus
Monaco to Win French Ligue 1 Outright 16/1 at Bet365
In 2014/2015 season of Ligue 1, Monaco came in 3rd, which is a great success, knowing that this team had problems with injuries of their key men (most notably Falcao). Compared to the previous season, the squad of Monaco has changed quite a lot. Instead of buying worldwide famous players, Monaco management has decided to focus on the future, so now this team has one of the youngest teams in Europe. There are only a few players old than 30 in Monaco, while their crucial men are in their mid-twenties. However, experience is needed for winning the trophy of Ligue 1. At least that's what the bookies think, who give 16/1 for this to happen.
Marseille to Win French Ligue 1 Outright 20/1 at Bet365
This summer, Olympique Marseille let go of some of their key players in the 2014/2015. Ayew, Payet, Gignac, Imbula, all left the club. This team did bring several new players, but the question remains, can they cope with other French teams. Last season, Marseille ended on the 4th spot, far below the champion, PSG. This season they are considered an underdog and the odds for Marseille to lift the trophy are 20/1 at Bet365.
Below you can find French League 1 Outright Betting Odds for all teams: