Titanbet £50 Free Bet offer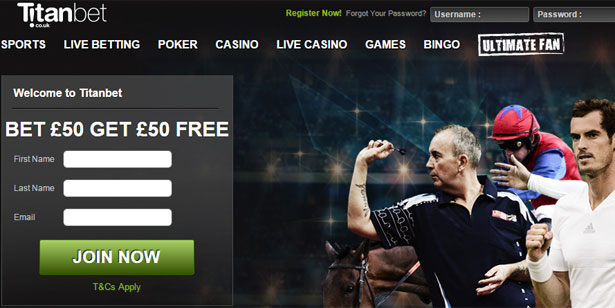 19.01.2016
Titanbet offers £50 free bet to new customers. Simply place 5 bets at odds of 2.0 (1/1) or higher and Titanbet will reward you with total stake up to £50 in free bets to use however you want.
To Claim your £50 free bet from Titanbet :
1) Click here and open an account at Titanbet.com
2) Make your first deposit to Titanbet.com
3) Place your first 5 qualifying bets at odds 2.00 or greater
4) Your Free Bets will be equal to your first deposit amount up to £50
How does Titanbet Free bet offer work?
After joining Titanbet, make a deposit and place 5 qualifying bets in order to activate your free bet. Your free bet will be equal to your first deposit amount up to £50 and it will become active after your qualifying bets have been settled (i.e. have resulted in a win or loss). Once your Titanbet bonus is active, you can use it to place any combination of bets on any sports.
What counts as a qualifying bet?
Any bet of £1 or more at odds of 2.0 or more will count as a qualifying bet. It can be placed on any sport, league or event at Titanbet but must be settled within seven days of your registration.
What does settled mean?
A bet is settled when the outcome has been determined and the bet has resulted in either a win or a loss. If a bet is cancelled, returned as money back or otherwise declared void this does not count as being settled.
How can I use my Titanbet free bet bonus
Whichever way you want! The Titanbet bonus don't have to be used all at one time and can be divided into several smaller bets or used to contribute towards part of a stake. Free bet can be used to place bets on any sport offered by Titanbet.
To place a bet with your free bet token, simply select your bet, enter the amount you would like to wager and then select the free bet token inside the bet slip by checking the appropriate box.